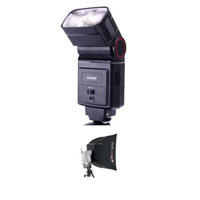 Adorama
Weekend special: Photoflex XS LiteDome Kit for $113 (reduced 19%). Includes an automatic flash (GN of 82 feet) and a softbox. You can read more about the LiteDome XS here.
Olympus
The Olympus UFL-2 underwater strobe has received a thorough review thanks to Rob Spray on WEXblog:
It's not the most powerful strobe in the world but it has superb finesse – wired or fibre connected. Control on macro subjects is excellent, if you wanted to you could correctly expose subjects actually resting on the strobe itself. For wide angle shooting, the control options the RC wireless mode offers are potentially mind numbing, but it actually really simplifies the addition and use of multiple extra strobes. Read the full review.
PocketWizard
LPA Design have confirmed they have a Paul C. Buff Einstein transceiver in the works. The new module will be called the PowerMC2, working with the PocketWizard ControlTL system to remotely control various settings on the monolight. You can see some very early images (loose wires, gaffer tape and all) in this Rob Galbraith article.
Predicted release date is some time this autumn. The price is yet to be announced. It will be sold via Paul C. Buff and their Australian and European distributors.