First, a quick introduction. Â My name is Matt Perko and I'm a commercial music photographer in Los Angeles. Â I'm new to this site but happy to be reviewing eq in the US market. Â To start off, I'm reviewing the MicroSync II wireless flash triggers from Tamrac. Â I received the MicroSync II Kit which consists of a transmitter, receiver, and accessories.
First Impressions: Size & Build
The transmitter is barely 2″ long. Â It's very tiny and light, and fits nicely on top of the camera with out adding any bulk. Â I'm used to much larger Pocket Wizards, so this was a refreshing change. Â The unit is a combination of metal and plastic and feels very well made.
The receiver was a bit larger and heavier than I had anticipated. Â It is made mostly of plastic, yet feels well made.
Connecting the Triggers
The transmitter connects to the hotshoe like any other trigger with a locking foot. Â It fits snug and stays in place when tightened down.
The receivers are unique a far as my experience. This is one of the innovative and great features of this system. Â No wires! Â Each receiver comes with mono plug (1/4″), mini plug, and household adapters, which covers the majority of systems you will use.
I have a few different strobes which require both mini-plug and 1/4″ so this is nice for me. Â If you want to use it with a speedlite that utilizes a PC port however, you will have to buy an adapter cable. Â Each adapter fits onto the bottom of the receiver and locks into place with a 1/2 turn. Â  Â If you've used other systems that require cables, you'll know first hand that cables go bad, and always at the worst times.
This system is encouraging because it eliminates that failure point. Â Now, whether or not this adapter system holds up over time is another story. Â My first impression is that it is a well made system so only time will tell.
In Use
I was anxious to test out the MicroSync II Digital so when it arrived, I opened the box and found the first willing subject, my son.
I fired off 36 images using one light without a misfire, which was good news. Â Since the MicroSync system has 16 channels, I decided to try a few different channels during this initial test. Â There are only 2 buttons on the transmitter, one for test firing and one for changing channels, and none on the receiver. Â I thought it would be fairly obvious how to change the channel, but it wasn't, so I had to dig in the manual. Â I have to say, the simplicity of the design sacrifices usability in this case. Â It is needlessly complicated to change channels with this system. Â First off, you have to unplug the receiver from your strobe and plug it back in. Â The transmitter must be within 3 feet of the receiver and you must complete the change within 10 seconds of the receiver being plugged in. Â Pressing the channel button on the transmitter changes the channel and if all of the previous conditions are met, the receiver will detect and sync. Â Bizarre! Â I cannot imagine having to do this on a job where I might normally ask an assistant to go around to multiple lights and change the channels on receivers. Â Strange, but not necessarily a deal breaker.
Off to a real test in the field. Â I set up a shoot with a model whom I have worked with previously. Â We went on location in Santa Barbara at Casa de La Guerra, a historic remnant of the old Spanish Santa Barbara. Â I brought just 1 light with a medium softbox and grid, and of course the MicroSync II system.
We shot in several locations over the course of an hour, with the light anywhere between 10 and 40 feet from the camera. Â I fired off a total of 186 shots without a single misfire. Â Impressive!
One thing that I did find a bit disconcerting was that in areas with a low ceiling, such as the location for this final shot, the receiver sticks so far from the back of the strobe that it bumped into the ceiling a few times as I angled the strobe down. Â I'm also curious as to whether the shear weight of the unit, and the length are a recipe for disaster later on as it stresses the sync socket. Â Perhaps a L shaped design would be better.
I did a quick test after this shoot to see what the range was like. Â It was after dark so I didn't include any photos in this review, but I successfully fired the strobe from well over 150 feet with no misfires. Â The system is rated to 200 feet, and I have no doubt that you will get that range.
Price / Final Thoughts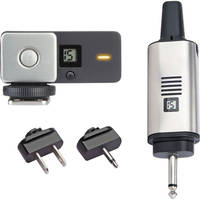 After weighing the strengths and weaknesses of the MicroSync II Digital system, I had to factor in price. Â There are lots of flash triggers available on the market and they range in price. Â As a professional, I tend to not worry too much about price if the unit is solid and reliable. Â That said, when you are looking to buy receivers for multiple strobes, expensive systems can cost and arm and a leg.
The MicroSync II Digital Transmitter/Receiver kit, (1 of each) sells for $129.95 at B&H. Â Compared to other professional solutions, this is a bargain price. Â So even though there are some things that bother me about the design of the system, as a professional I would use this system and after my experience with it feel it could be trusted to perform reliably. Â At that price point, it offers great value. Â Hopefully a version III will come along that addresses some of the issues. Â All in all, an excellent, inexpensive system.